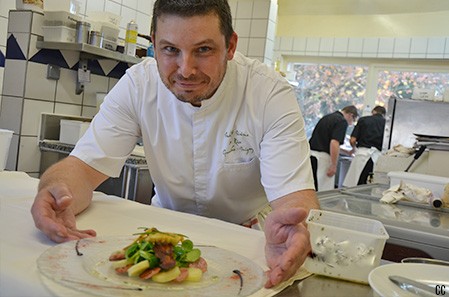 With an impressive career that started at the "Auberge du Père Bise" in Talloires, and continued in Burgundy at Georges Blanc in Vonnas, "Pierre" in Mâcon, "Stéphane Derbord" in Dijon and with Jean-Michel Lorain at the restaurant "La Côte Saint-Jacques" in Joigny, Chef Jérôme Joubert has chosen to stay in our beautiful region to manage the kitchens of our restaurant "Le Rive Gauche".
Stringent when it comes to the quality of the dishes he offers, he prefers local producers and is very particular about the origin of the products he selects.
His cuisine is creative and refined, with an emphasis on the authentic flavours of the dishes he creates. His passion compels him to make each seasonal dish a culinary journey that will tantalize your taste buds in the best possible way.
He prepares dishes skilfully by combining local cuisine with inventiveness, and subtly masters the complex science of harmonising flavours, aromas and textures. He also likes to feature local Burgundy wines in his dishes.